Membership level to join:
GOLD
Drop in? SWISH 60 SEK
(per class) to EIF account
123 071 57 89.

We are Balancing release 87! 🙂
Instructors @ LN :
BodyBalance tips and news:
Bird in flight and Bird in a cage tips!
WHAT IS BODYBALANCE?
Yoga-Based Group Fitness – Les Mills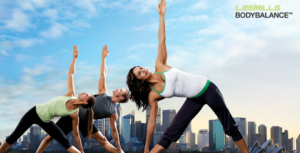 Ideal for anyone and everyone, BODYBALANCE™is the yoga-based class that will improve your mind, your body and your life.
During BODYBALANCE an inspired soundtrack plays as you bend and stretch through a series of simple yoga moves and embrace elements of Tai Chi and Pilates. Breathing control is a part of all the exercises, and instructors will always provide options for those just getting started. You'll strengthen your entire body and leave the class feeling calm and centered. Happy.
Example from BODYBALANCE 82.