---
EriM 2023 Haverdal GK – Registration is closed
Green fee deal
Schedule 2023 – Next up is Höstträffen scramble at Lunna
Results
---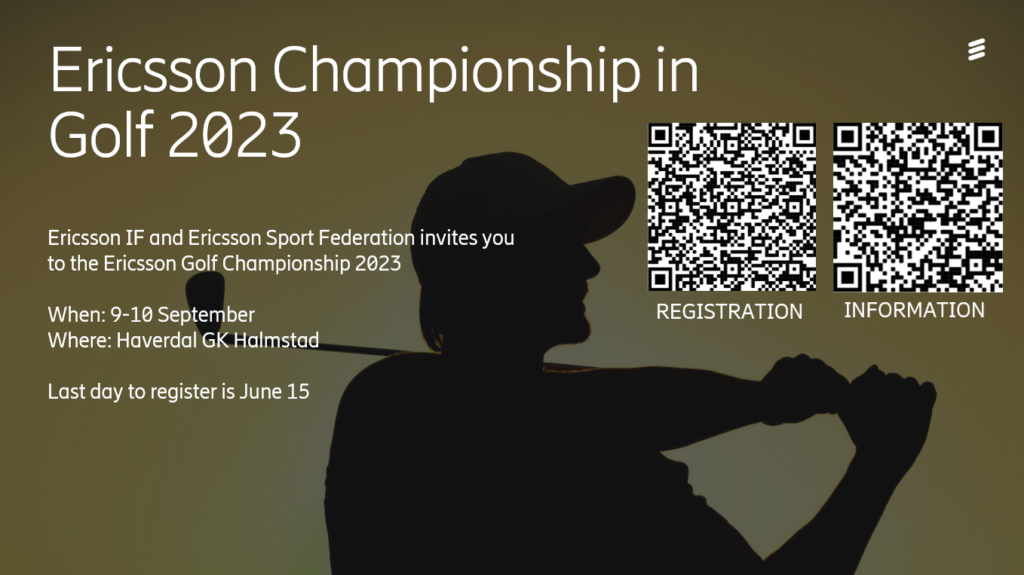 ---
As a member of Ericsson IF Gothenburg, you can buy green fees up to 10 times for 2023 in the following golf clubs: Chalmers and Hulta Golfklubb. The cost is 1500SEK but you must be at least a Bronze member of Ericsson IF. You can also purchase additional 6 green fees for 900SEK when 10 green fees have been used.
You can choose to take a friend or friends with you and use up to 4 of your 10 rounds at once.
Fee for Ericsson employees who have at least bronze membership:
1500SEK gives you 10 rounds of golf
---
Fee for consultants:
2000SEK gives you 10 rounds of golf
NOTE You need to be at least a bronze member of Ericsson IF
---
Seniors from Ericsson:
2000SEK gives you 10 rounds of golf and bronze membership in Ericsson
Pay to EIF's PG 240592-6
Any questions please contact:
Tage Sjödahl: 0733 886236, Mail: tage.sjodahl@hotmail.se
---
April
28
Friday
Vårträffen
Torslanda GK
TL Anders A.
May
9
Tuesday
Series play 1
Lycke GK
TL Anders A.
23
Tuesday
Series play 2
Ale GK
TL Morgan
30
Tuesday
Series play 3
Sjögärde GK
TL Anders R.
June
7
Wednesday
Series play 4
Chalmers GK
TL Claes
20
Tuesday
Series play 5
Partille GK
TL Claes
30
Friday
Juniträffen 18 holes
Gräppås
TL Morgan
July
4
Tuesday
Series play 6 morning
Delsjö GK
TL LG
18
Tuesday
Series play 7
Lysegården GK
TL Anders A.
August
1
Tuesday
Series play 8
Forsgården GK
TL Morgan
15
Tuesday
Series play 9
Hulta GK
TL Claes
23
Wednesday
Radar Cup
Chalmers GK
TL Nils
27
Sunday
KM 18 holes
Marks GK
TL Morgan
September
1
Friday
WCCG
TL Nils
5
Tuesday
Series play 10
Stenungsund GK
TL Anders R.
8
Friday
EriM practice-round
Haverdal
EIF gbg
9-10
Sat-Sun
EriM
Haverdal
EIF gbg
22
Friday
Höstträff
Lunna GK
TL Anders A.
---
Results
Vårträffen Torslanda GK
---
Juniträffen Gräppås GK
| | | |
| --- | --- | --- |
| Martin C. | 73 |  |
| Morgan | 74 | |
| Johan | 76 |  |
---
Series play
.
.
.
Lycke 9/5
Ale 23/5
Sjögärde 30/5
Chalmers 7/6
Partille 20/6
Delsjön 4/7
Lysegården 18/7
Forsgården 1/8
Hulta 15/8
Stenungsund 5/9
Totalt
.
.
hcp
SG
SG
SG
SG
SG
SG
SG
SG
SG
SG
Poäng
Spelade omg
1
Clinton D
8,0
73
5
83
74
3
67
7
75
7
22
5
2
Lars-Göran N
16,0
82
81
2
76
5
73
7
75
2
78
2
75
3
19
7
3
Stig S
16,1
77
3
78
4
76
7
82
1
76
1
75
4
19
6
4
Johan W
15,3
78
2
82
1
77
2
69
4
77
4
75
5
17
6
5
Morgan E
11,3
75
4
81
3
78
4
77
3
78
14
5
6
Klas B
18,1
72
7
102
68
5
82
1
13
4
7
Claes H
18,0
83
84
67
7
80
1
80
2
10
5
8
Anders R
8,8
77
7
79
3
83
10
3
9
Martin C
17,7
79
77
5
76
4
80
9
4
10
Anders A
22,0
86
84
75
5
77
3
82
8
4
11
Colin T
74
5
5
1
12
Ulf P
10,7
89
89
83
2
2
3
13
Lennart N
18,0
82
85
83
1
81
1
4
14
Lars P
11,9
79
1
1
1
15
Pat M
21,1
86
85
0
2
16
Ola L
6,0
85
0
1
17
Jonny A
21,0
92
0
1