Let's run together!
During the pandemic all activities together are canceled, but I hope you do well with your running. I expect that we will open up all activities after the summer again. In the mean time you can order som nice running clothes if you are quick. The ordering stops 2021-03-24. Have a look at this Yammer post:
https://web.yammer.com/main/threads/eyJfdHlwZSI6IlRocmVhZCIsImlkIjoiMTExNDM3NTIyMDAxMTAwOCJ9
How to order:
To log in, create an account on MY BIORACER(or use the one you created last time), click on the following link:
https://www.bioracer.se/se/mybioracer/?r=UZssMzmaqr
When logged in, click on "info" for more information
Confirmation on the order will be sent to the email you´ve used when creating the account, make sure it does not end up in the junk mail, if not receiving confirmation send a mail to info@bioracer.se
Below will be updated when we open up the office again.
———————————————————————————————————————-
Every Monday and Friday lunch we have active running groups at Ericsson. We gather outside the gym at 11:00, form groups depending on training plans and run together. If you don't have a training plan, just show up and share your ambition level. It's very likely that someone can help you or just get you started. Let's keep it simple! 🙂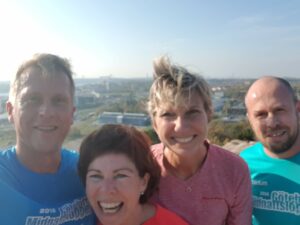 Ericsson IF – Lindholmen Runners on Strava
Join Ericsson Lindholmen Runners Club on Strava.
Follow your colleagues and leaders board on Strava
We post weekly Run events with preselected routes
Ericsson sponsored races 2020:
Lundaloppet 9/5 – anmälan öppnas i vår
VårRuset Göteborg 6/5 – anmälan öppnas i vår
Göteborgsvarvet 16/5 (Ericssonmästerskap jämna år = 2020) – anmälan öppen
Stockholm Marathon 30/5 (Ericssonmästerskap udda år = 2021) – anmälan öppen
Blodomloppet 1/6: Anmälan av lag direkt till arrangören från lokala siter. Subvention via kvittofunktionen. Blodomloppet.se
Midnattsloppet Göteborg 12/9 – anmälan öppen
Stafesten för UNICEF (f.d. Bellmanstafetten): Stockholm 19, 20/8 – anmälan öppnas i vår
Stockholm Triathlon 23/8 : – anmälan öppnas i vår
Kretsloppet: Borås 12/9 – anmälan öppnas i vår
Larger Upcoming events
10 kilometer väntar på en snabb och flack bana vid Älvstranden i Göteborg. Är det kanske här du gör din snabbaste mil någonsin? Din tid från Varvetmilen Göteborg den 29:e mars är seedningsgrundande till Göteborgsvarvet 2020.
Lördag den 16 maj 2020 arrangeras Ericssonmästerskapen i Halvmarathon i samband med loppet. Vi har tre åldersklasser för både herrar och damer: H21, H40, H50, D21, D40, D50. Du tillhör respektive åldersklass från det år du fyller angivet årtal. Anmäl dig på www.ericssonforme.se under Mina Förmåner -> Hälsa -> Motionslopp -> Göteborgsvarvet.
TCS Lidingöloppet 30 – en av landets stora löparutmaningar!
Lidingöloppets första och mest klassiska distans. Den tuffa och vackra banan är sedan starten 1965 en av landets stora löparutmaningar, ett riktigt kraftprov för alla löpare – elit som motionär.
En del av En Svensk Klassiker
TCS Lidingöloppet 30 ingår – tillsammans med Vätternrundan, Vasaloppet /Engelbrektsloppet och Vansbrosimningen – i En Svensk Klassiker.
Tips for both experienced and novice runners (some in Swedish)
Ideas or suggestions? Send mail to Darko Aleksic or Martin Lanzen