BodyByGard
From April 1 2022 we run classes on-site at Lindholmen again!
Since all participant will not be in the office we will keep the Zoom meeting as an alternative.


BodybyGard Core&Flex is an unique form of exercise that builds strength in the deep core muscles and gives you increased flexibility, improved posture and a deepened body awareness. Classes are finalized with breathing exercises and relaxation.
Everyone can participate – regardless of age or training experience. The instructions in the classes are in Swedish.
First time is free! Come and experience!
Fia and/or Annika from BodybyGard AB run classes every Friday 12.00 – 13.00 in "gympahallen" in Lindholmen with Zoom participation as an alternative. For questions/Zoom links please contact info@bodybygard.se.
We will run classes the following 10 dates before summer break:
April: 1, 8, 22, 29
May: 6, 13, 20 
June: 3, 10, 17
Fee: 1 time/week – 10 times: 1700 kr (170 kr/session). Bronze membership in Ericsson IF is required.
Participants in BodybyGard are free to attend BodyBalance™ classes @LN (when they are resumed).
Welcome!
Ericsson contact: solveig.rosen-kihlstrom@ericsson.com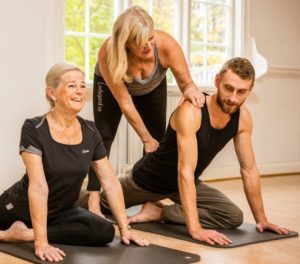 BodybyGard contact(s): info@bodybygard.se